Let's make the web great together

I'm all about
...
I'm all about making things better, safer, and more enjoyable. This is my hobby. It is my way of life. I don't always get it right, but I always try to learn from each iteration, and use that knowledge to make improvments to my methods.
The way I see it, life is short, amazing, and obviously better spent in the service of good.
We should always work towards something better with a flexible diligence.
We should take the time to throroughly savor what we are and what we have.
We should take the time to share it with those around us.
These are the principles by which I try to live my life.
---
Professionally
I study web technologies and develop web apps because it's fun, because I love it and because I think it can change the world.
No matter how big or how small, I view each new project as an opportunity to create a work of art.
Each new task is approached with passion and an open-mind.
Then an optimal balance of speed and thorougness is sought as I commit myself to the timely completion of a product that meets or beats expectations.
---
Goals
To create good memories, pleasing designs, elegant code and kick-ass projects
To earn what I get, learn what I can, and make worthwhile contributions
To have fun, work hard, enjoy life, and everyday look for ways that can help make things better
---
Skills
HTML5
CSS3/Sass
JavaScript/JQuery
Node/npm
Git/GitHub
Gulp
Illustrator
---
Check out some of my many school Projects
...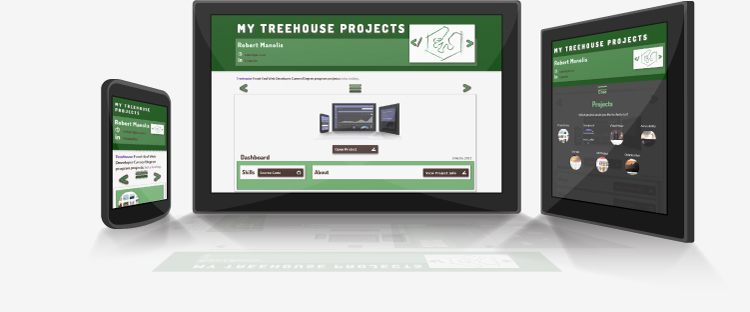 Click on the image above to checkout the projects I've built while learning from and working with the great people over at Team Treehouse.
A Code Poem
var

uman

=

"Amazing life-form,"

;
var

kan

=

"capable of great things,"

;
var

du

=

"abide"

;
var

you

=

uman

+

kan

+

du

;
var

reality

=

[]

;
var

life

=

reality

.

push

(

you

)

;
var

joy

=

function

(

moment

)

{
if

(

life

)

{
for

(

var

i

=

0

;

i

<

infinity

;

i

++

)

{
life

.

learnAllYouCan

();
life

.

findSomebodyToLove

();
life

.

makeTheBestOfEveryMoment

();
reality

.

write

(

"No worries"

);
}
}
else
{
reality

.

write

(

"No worries"

);
}
};
joy

(

always

);